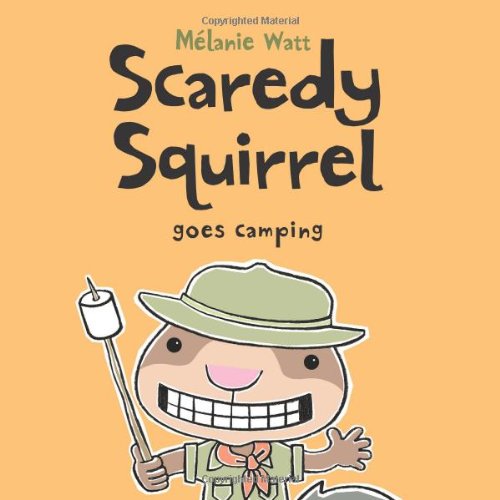 Scaredy Squirrel Goes Camping is the latest offering from Melanie Watt and Kids Can Press. I love Scaredy Squirrel (linked to some our past coverage). But until a book showed up on my doorstep, I didn't even realize that there was a new one out this month. I left it out on the coffee table to be discovered, and sure enough both of my Scaredy Squirrel fans, 9 and 14, dug right in.
Their mom (that's me) was a little less enthusiastic. I was excited to know it existed in general, but as far as real excitement about the story itself? I don't know if I could muster that up. Perhaps it's because the format is so familiar to me, it lacked something? Don't get me wrong — the format works. Scaredy generally has some sort of problem, something that scares him, and he goes through all the worst case scenarios to be prepared to handle it. He's cute. He's funny. He's relatable. I mean, just look at him in that picture up there — adorable!
In this latest adventure, Scaredy wants to go camping, but also wants to avoid all the uncomfortable elements including mosquitoes, skunks and tent zippers. So he figures out a way to experience camping without actually having to camp — TV! But in order to be able to watch TV, he needs to find a really long extension cord and a power source.
I'm not knocking this book, and to be honest, when I asked my kids if they thought it wasn't as good as the others, they did not agree. So even though I feel less than super-excited about Scaredy Squirrel Goes Camping, my kids like it, and he's still one of my all-time favorite children's book characters.