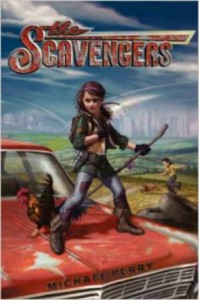 The Scavengers is an imaginative novel for 9 – 12 year olds set in a dystopian future. If you aren't a fan of Young Adult fiction, you might not be familiar with this genre of fiction, but it's very popular (Think Divergent, The Hunger Games, etc). A dystopia is defined as "an imagined place or state in which everything is unpleasant or bad, typically a totalitarian or environmentally degraded one." What makes this novel so unique is that it is geared to younger readers and from the perspective of a girl their age.
My 10-year-old son and I have been enjoying this book so much.
Head over to 5 Minutes for Mom to read my review of The Scavengers. You can also enter to win your own copy.
Check out our current giveaways. Subscribe to our feed. Follow us @5M4B on Twitter or on Facebook.