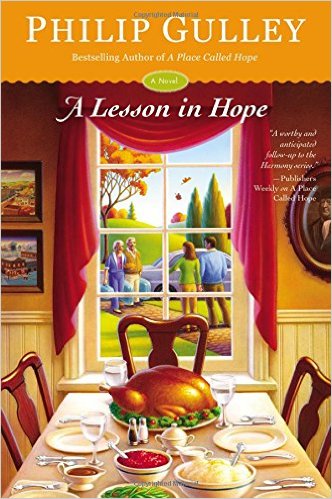 Hope, Indiana is no Mitford, North Carolina, but it's close. Phillip Gulley writes about small town church life in a similar fashion to Jan Karon. There are folksy characters, some backbiting and position jostling within the Society of Friends Meeting, career doubts, marriage temptations, problems with adult parents, and more in his latest novel A Lesson in Hope.
People are at their worst when it comes to money, and when the small Hope Friends Meeting inherits a large sum from a member, they are odds for what to do with it. Pastor Sam Gardner is hoping for a raise, some want to build, others want to give it away to missionaries. Regina Charles, the deceased's niece, shows up demanding her share and threatening to sue.
This was a sweet novel, funny in places, and heartwarming (though not at all sickly sweet). Empty nesters concerned with children away from home and dealing with needy parents will relate easily to this story line, and if you've ever had to figure out what to do with hundreds of thousands of dollars — wait, you haven't? — probably just better to just watch this kerfuffle from afar.
If you like "gentle fiction" and have enjoyed Jan Karon or Jeff High, and haven't read anything by Phillip Gulley yet, I recommend that you give him a try. I read a couple of his Harmony novels, and apparently there was one more set in Hope before this one, but I didn't feel behind at all jumping in with this one.