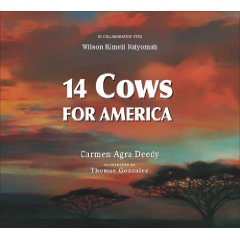 14 Cows for America
is a tale of both sympathy and strength. Kimeli Naiyomah grew up in a small village in Kenya but eventually moved to the United States of America to obtain a degree in molecular biology from Stanford University. He was over here on 9/11 when events transpired which changed America – and the world. Naiyomah was deeply moved by the tragic events. Returning to his homeland, he shared the events of 9/11 with his people, the Maasai.
Upon hearing the news the Maasai, being very moved to offer a gift of hope to the American people, decide to give the Americans a great gift – 14 cows. Now, to Americans we might scratch our heads and wonder what that is all about. 14 Cows for the people of our country? However, the cow to the Maasai is a symbol of life. Without cows, the Maasai would starve. Their herd means a great deal to them. For a tribe of people to give up a large source of their food supply to a country like America is a huge statement for them to make. The significance might be lost on Americans at first glance but upon closer inspection, they gave of their hearts to show their support of us.
This book is illustrated by Thomas Gonzalez and it is beautifully done. From the African landscapes to the people to the cows themselves, this book is filled with stunning artistry. I think my favorite picture of all is a close up of a young boy's face where you can see the reflection of the twin towers in his eye. It is a deeply thought-provoking image, simple yet complex.
This book
closes with a note from Kimeli Naiyomah telling the background story that went into the making of this picture book for children. It is very informative as to why this gift of cows is so significant and speaks of hope for the future and the love that this people has for Americans, especially in a time of great pain.
14 Cows for America
is a new offering from Peachtree Publishers and an interesting angle on the history of 9/11 which is a moment we should remember — and keep talking about.
For more reviews of 14 Cows of America CLICK HERE.
Carrie comes by her book obsession honestly, having descended from a long line of bibliophiles. She blogs about books regularly at Reading to Know.