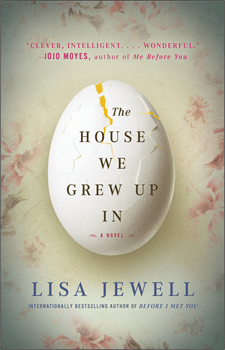 Lisa Jewell has never disappointed me, and The House We Grew Up In is certainly no different. Jewell portrays a family full of people with flaws, but they are still likable or at least understandable in their own ways.
The beginning of the novel was a little tough for me, because it was skipping around in time, featuring the life of the Bird family in the past, plus what was happening in the present with some relatively present emails from Lorelei to Jim.
The flashbacks center around Easter Sunday, a holiday important to Lorelei, not for religious reasons,but for the festivities that she likes to create. One Easter something awful happens to Rhys, and it changes everyone in the family, pulling them further and further apart.
This is a complex novel of complicated characters, but it's not quite as dark as it sounds. I was riveted and tried to squeeze as much reading time as I could to figure out what happened to Rhys, why Lorelei got the way she was, how she and Colin split, what caused Beth and Megan to stop speaking, and more.
Read my full review at 5 Minutes for Mom and enter to win a copy as well.