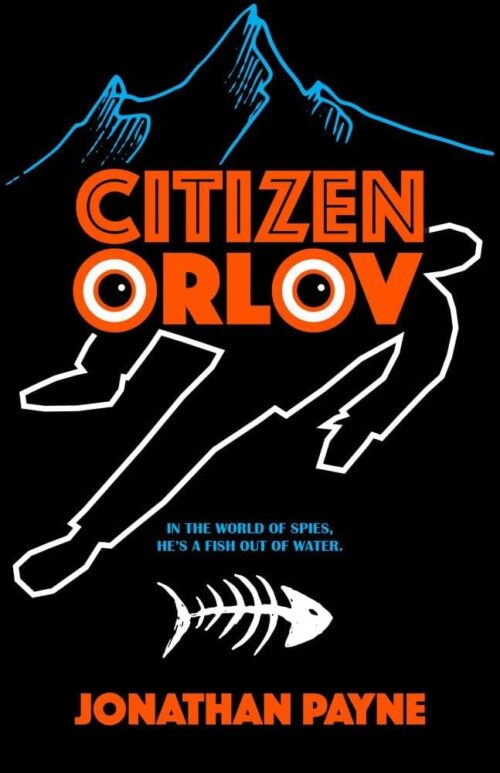 Citizen Orlov is a simple man, a fishmonger who runs the only fish stall in the Central Marketplace of this unnamed capital city in a mountainous Central European country. One day while walking to work down an alley, he hears a phone ringing and ringing–although whether it's in the Ministry of Security or the Ministry of Justice he's never entirely certain. He leans into the open window, answers the phone, and intercepts a call meant for a secret agent–or was it meant for him after all?
The call changes his life. In attempting to deliver the message, he gets recruited to save the life of the king. His partner is the beautiful and mysterious Agent Zelle, who may be a patriot who is trying to kill the king instead. Which is it? Citizen Orlov has to travel to a beautiful town in the mountains, where he stays at the Residence Penzion–or should he have been at the Rezidence Pension across the street? Before he knows what's happening, he's been charged with murder. His defense will change the entire country–or will it really?
Citizen Orlov is a satirical, fast-moving novel of a hapless citizen caught up in plot, counter-plot, and bureaucracy at its finest. It feels like mid-20th century, early Cold War, but time and place are never specified. It's a bit like a kaleidoscope, with shifting realities, but firmly anchoring the plot is Citizen Orlov, who just wants to live in peace and have his mother and friends living in peace as well. It's a fun read, filled with dry humor and a wry look at an ordinary person's attempt to understand the foibles of government officials. Highly recommended.
Book Links:Amazon | Barnes & Noble | BookShop.org | Goodreads | CamCat Books
Author Bio:
Jonathan Payne is a British-American writer based outside Washington, D.C. He holds a Master of Arts degree in Novel Writing from Middlesex University, London. His short fiction has been featured at the North London Story Festival and in magazines including Turnpike, Twist in Time and Fiction Kitchen Berlin. Before moving to the United States, he worked for the British government on matters of national security. When not writing or reading, he can be found in the boxing gym.