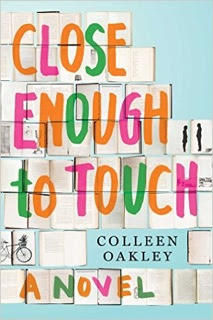 Jubilee Jenkins, like a lot of other people, is living with an allergy. But her allergy is an extremely rare one – she's allergic to other people. Just touching them can cause her to break out in a rash, requiring her to wear gloves whenever she's around other people. She hasn't left the house since her mother moved out, preferring to live alone and away from potential harm. But after learning that her mother has passed away, and her step-father is cutting off the money her mother had been sending, Jubilee realizes she must leave the house and get a job.
Eric Keegan is a single dad who has just moved to town with his adopted son, Aja, who hasn't dealt with his grief over the death of his parents who were killed 2 years earlier. Eric is only there for a 6 month temporary job assignment, and the distance doesn't help his estrangement with his teenage daughter.
When Jubilee runs into a high school classmate who offers her a job at the local library, she can't turn down the opportunity for the only job she has a possibility of landing. And when Eric sees her there during a Halloween story hour, he's immediately drawn to her. Jubilee and Eric strike up an odd friendship, as her allergy and reclusive tendencies make her unsure of how to be around people, and Eric can't seem to take no for an answer in his desire to help her.
Like Oakley's previous novel, Before I Go (click to read my review), Close Enough to Touch is both heartwarming and heartbreaking. Jubilee craves to be touched, which is known to be a physiological need for well being, even though it can kill her. Eric is emotionally clueless, as described by his ex-wife, but he just wants the people he loves to love him back.
The secondary characters in the novel are also well fleshed out and add substance to an already full story. Jubilee's coworker at the library is sardonic and a bit resentful of the regular library patrons, giving them all nicknames. Madison, the friend who offered her the library job, is determined to pull her out of her shell. And Aja seems to believe the X-Men are real and is constantly getting into trouble for his attempts to find his superpower.
Close Enough to Touch is at turns funny, sad, poignant, and thought-provoking and I highly recommend this novel.