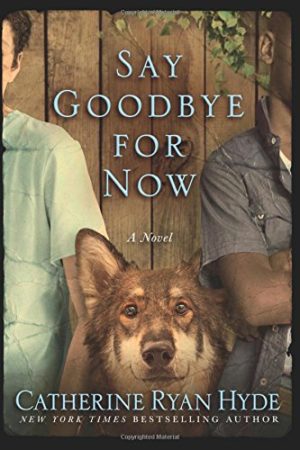 In Say Goodbye For Now, Catherine Hyde Ryan explores miscegenation laws of the 1950's with the heartbreaking story of four people who would have never otherwise become a family.
Dr. Lucy just wants to be left alone on her farm with the horses, dogs, and other animals she's taken in. She's not a vet, but the people of her small town in Texas aren't very welcoming of a woman doctor, and she feels a responsibility to live on the land left to her by her father. She earns enough money by helping wounded men, asking no questions and keeping quiet from the police.
12-year-old Pete Solomon is headed toward the fishing pond with his buddy when they come across a dog lying on the side of the highway. Pete decides to help the dog and takes him to a vet, who turns him away because the dog is actually part wolf. When a nurse tells him about Dr. Lucy, he walks the long distance to her house. On his way he meets Justin Bell, an African American boy his age who has just moved to town.
Pete likes Justin immediately, but their friendship is not approved by the townspeople and when Pete finds Justin lying on the side of the road, semi-conscious and bleeding profusely, he doesn't hesitate to take him to Dr. Lucy. When Justin's father, Calvin, arrives at Dr. Lucy's house, they also have an immediate connection, but agree that doing anything about their attraction is dangerous, both for themselves and Justin.
As Pete helps nurse the wolf-dog, who he names Prince, back to health, he also has to deal with his own father's anger at his being gone all day without telling him where he's going. Things come to a head and Pete has to turn to Dr. Lucy once more.
Say Goodbye For Now is a bit slow to start, and the language is a bit simple, at least initially. But as Pete grows, both physically and emotionally, so does the prose. Dr. Lucy also grows in her own way, grudgingly giving up her solitary life only to realize she just needed to surround herself with the right people.
This is a wonderful and important story that moves quickly and has the reader caring about the characters and not wanting the story to end, so if you're looking for your next good read, look no further.