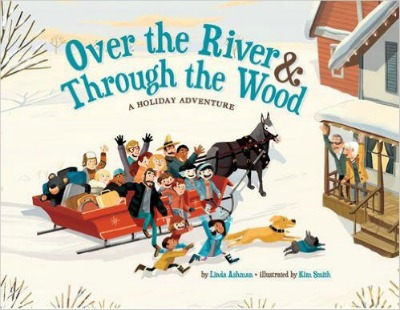 An invitation goes out from Grandma and Grandpa to four parts of the family, spread out around the country: "Come to our house for the holidays – and bring your favorite pie!" The trip there ends up being quite the adventure for all four groups in Over the River & Through the Wood: A Holiday Adventure by Linda Ashman and illustrated by Kim Smith.
The rhyming text, set to the tune of the traditional song of the same title, tells each story of a part of the family packing up and traveling to the grandparents' house. By car, by train, by plane, even by boat and hot air balloon, the families make their trips, but each group hits a stumbling block of some sort that slows down their progress. A surprise, in the form of a horse and buggy, of course, shows up just in time to help each group. Their arrival, all together, makes for an even more joyous celebration at Grandma and Grandpa's!
There's a level of silliness in the families' adventures that will likely appeal to young children, depicted in Smith's fun and whimsical illustrative style. From the beginning endpapers, set up as the wall of framed photographs on the grandparents' wall, the natural diversity of the large family is apparent. Adults and children of various ethnicities, and families made up of both opposite-gender and same-gender partners are all portrayed as happy members of the extended family. No comment is made about the diverse types of families, but rather they are simply incorporated into the story as anyone else would be, which absolutely delights me.
For a loving portrayal of a large family with a dose of humor and fun adventures, Over the River & Through the Wood makes the perfect read.