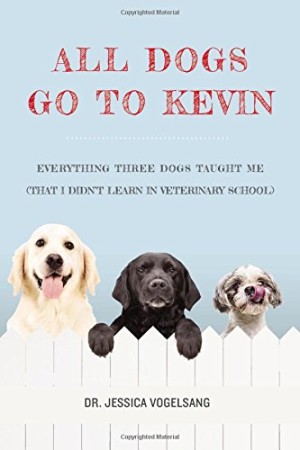 Yes, it's a dog memoir. And yes, what you think is going to happen to the dog is going to happen. And wait — it's not just one dog, it's a few. The author Jessica Vogelsang doesn't just love her dogs, but cares for others' dogs in her job as a veterinarian, and they aren't all there only for vaccinations, so all the stories don't end so well. The subtitle gives you more of a hint of the dogs' lives she'll be chronicling: Everything Three Dogs Taught Me (That I Didn't Learn in Veterinary School).
Whether she was writing about losing an adult friend, the Kevin who lends his name to the title, or getting a new dog, letting go of an old dog, or counseling a patient through the illness or death of their pet, she writes in a way that all those who have animals as a part of their family will understand — not in an over-the-top way, but rather practical and down-to-earth, yet with that strong emotional connection some of us feel for our pets.
The writing flowed seamlessly, and though some of the stories seemed a bit like vignettes, there is a definite thread that ties it together. This is her story. It's her story of the pets and patients that accompanied her from childhood to college to making a career choice, setting up a home with her new husband, and starting a family.
All Dogs to Go Kevin was warm and funny, a story not only about dogs, but about a young woman's path through college, vet school, and into adulthood, marriage, and motherhood. If you love dogs and love memoir as I do, I highly recommend it.