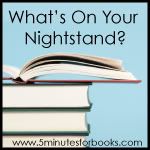 Did you see our news? We're on Pinterest! Follow us!
Spring is here!
Here in Houston, we are actually having lovely spring-like weather, for now. In Texas, just wait a minute and it might feel like summer or a mild winter day. But it truly is my favorite season for sitting outdoors and reading and getting a little natural Vitamin D.
I've been in a bit of a reading slump lately. I had been reading a few different books, as I generally am (one novel, one middle grade novel, and a non-fiction book) and was enjoying two of the three of them, but it's just been slow-going. I kept trying to get into the novel but just couldn't. I finally gave up on it this weekend, so I'm excited to get started on something new. It's fiction that really fuels my desire to read, and it's often just easier to watch some TV or surf the net when I have some downtime if there's not something that's really calling to me.
I have no idea which direction I'm going to go. I'm actually waiting on Marisa de los Santos' newest, The Precious One, to arrive, and I'd like to start that, so I'm trying to finish The Keepers: The Box and the Dragonfly, so I'll can focus on that. I can guarantee that will get my reading mojo back!
What about you? Link up to your blog post below or leave us a comment.
Check out our current giveaways. Subscribe to our feed. Follow us @5M4B on Twitter or on Facebook.