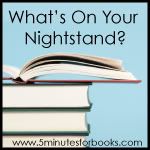 I'm having laptop problems with my cord, and shipping problems with the replacement I ordered, so I don't really have time to wax poetic.
We are having lovely spring-like weather here in Houston, which has had me spending some time in the backyard with my new puppy, book in hand. It's probably my favorite kind of reading. I know some of you are expecting bad weather, which gives you another excuse to read. Whether it's business as usual or something allows you to squeeze in some extra reading, we want to know what you are up to.
Just leave a link below telling us what you're reading, and be sure to visit around as well!
Check out our current giveaways. Subscribe to our feed. Follow us @5M4B on Twitter or on Facebook.