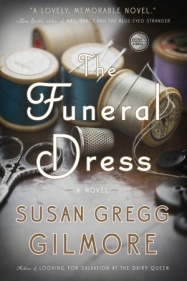 Poor Emmalee Bullard. In The Funeral Dress by Susan Gregg Gilmore, Emmalee is literally poor – a ninteen year old from Red Chert living in a house insulated with tar paper that is about to blow off with no running water, heat, or reliable source of food. She dropped out of school at 16 when her father – with whom she lives – told her it was time to make her way in the world.

Lucky for Emmalee, she was able to get a job at the Tennewa factory making collars for men's shirts and women's housedresses. Though she knows only a bit of how to set, she manages to get by, especially once the best seamstress in the factory takes her under her wing. Leona Lane doesn't like anyone, but she unwillingly takes a shine to Emmalee and helps her, from giving her sandwiches to showing her extra stitches and more.
At 19, Emmalee now has a baby and isn't doing well with motherhood. Her father has chased off every ounce of help, from the car seat the hospital gave her to her aunt and uncle who offered bottles and clothes and more. Leona knows Emmalee needs more, and she has a room in the trailer she shares with her husband that she offers to Emmalee – a safe, warm place with help for her baby, too.
The Funeral Dress bounces between the stories of Emmalee and Leona, both past and present, in this gripping book. Both have dealt with heartache, though in different ways. Their characters are rich and compelling, and when Leona dies the night before she and Curtis are due to take Emmalee away, it turns Emmalee's life on its head even more.
I loved this book, an honest look into lives near Appalachia where expectations are not the same as those I grew up with. It is such a classist community with everyone stuck where they "belong" according to the town. It's the young who suffer the most, the ones who dream and have those dreams dashed again and again.
The Funeral Dress explores these themes from a few angles and draw the reader in emotionally. I'll admit I had tears running down my face for most of the last 50 pages of the 340 page book. I knew what I wanted to have happen, but I was powerless as the reader to make any impact. This is one of the books that will stay with me for a long time.
Written by Michelle who is so grateful that she was born in a time and place that was so much easier. See how her life differs from that of Emmalee as she shares it on her blog Honest & Truly! or follow along with her on Twitter where she is also @HonestAndTruly.