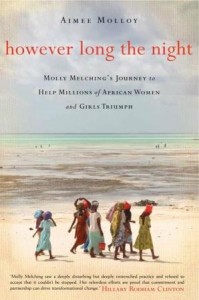 However Long the Night
is the story of Molly Melching, an American woman who's had a great impact on the daily lives of many women living in places as diverse as Senegal and Somalia, but it is as much the story of the women themselves and their willingness to make hard choices to change the lives of their daughters and grand-daughters. It's an inspiring read in many ways, not least as you learn of courageous women–and men too!–who are committed to change in the face of opposition, simply because they've become convinced it's the right thing to do.
Molly had a fairly typical American childhood, growing up in Illinois. She went on a cultural exchange program to Dakar, Senegal, in 1974, and even though the program was unexpectedly cancelled just after her arrival, she found a way to stay and study. It wasn't all easy in the early days, but she found that she loved the Senegalese people, their big laughs and spicy food and relaxed way of looking at life. (Aside: I lived in a neighbouring country for 6 years and we took our vacations in Senegal, and I can relate! She even mentions eating Yassa Poulet cooked by women on the beach, and my mouth watered and I felt homesick for a place I never lived.) She extended her stay again and again.
Molly's approach to the local people is one to emulate. Sure she had things to teach–literacy, and women's rights, and community health–but she never came in as the Outside Expert who pops in, lays down the law and builds something, and then disappears, leaving the project to fall into ruins because the people it's supposed to be benefiting have never really understood or owned it. (This happens way more than you might think) Molly's approach was different. She loved her host culture and saw all it had to offer, and she understood that any lasting change had to come from within.
Although Molly is an admirable person, the real heroes of the book are the Senegalese village women. The main issue However Long the Night
revolves around is that of FGM–female genital mutilation. I just handed the book to my teenage daughter and her friend and told them to read it, and then I found myself squeamish in describing what it's about. I'm not usually squeamish (perhaps it was the presence of the friend?) but I also don't want to take the time to go into details, so here's a link to a wiki article about it in case you are unfamiliar with it. FGM was widely practiced throughout Senegal, and no one thought anything about it. Mothers performed it out of love for their daughters, wanting them to be accepted and respected members of society. A woman who was not cut would not marry and would be considered impure, and other women would not eat food she cooked and would rewash clothes she washed. Of course the village mothers would have their daughters cut!
Molly founded an NGO (non-governmental organization) named Tostan (Wolof for "hatching egg") and developed a curriculum that addressed many things–prenatal care, the phases of pregnancy, and much more–and included within in theater and dance, repetition and poetry, all the ways the women of the villages typically learned things. She trained others to go round and live in different villages and teach this curriculum, which included sections on human rights and FGM. However, she was flabbergasted when all together, a village full of women announced they would no longer allow their daughters to be cut.
From then on, it spread. Some people took it upon themselves to go round and round to various villages, teaching this new idea, persuading and arguing and even facing some persecution, since it's often mistakenly assumed to be taught by Islam. Of course it isn't easy–deep change comes slowly, and cultural fundamentals aren't lightly tossed aside. But currently over 5000 villages in Saenegal have committed to stopping the practice. Molly visits Mauritania at one point, where I used to live, and I have high hopes of this spreading there as well. (Personal aside: I taught at the university there, and I remember a young student who was passionate about this issue, and fought her parents to protect her younger sister. Her mother waited until she'd left for school, then had the younger girl cut. My student was in furious tears. I wish I'd known of this program then.)
Although However Long the Night
definitely traces the arc of Molly's life, it's about so much more than that. It really is a story of community development done right–with humility, a learner's attitude (which is harder to maintain than you might think going in), and a commitment to bottom-up, grassroots development. I loved that the book wasn't a hagiography and didn't idealize or minimize the village women themselves but instead presented them as real people. Highly, highly recommended.
PS I read this book because it was about Senegal, but I have to say the subtitle put me off. Ironically, what it implies (Wonderful American Woman saves all these "poor African" women who don't know any better) is the exact opposite of the book. I mention this in case you find it off-putting too. The book's worth reading. Maybe they'll change the subtitle for the paperback version.
Find out more at the TLC Book Tours page.
Leave a comment here about why this sort of story appeals to you, and you'll be entered to win a copy of the book (U.S. and Canada only, please). We'll announce the winner in our June 19 giveaway column.The giveaway is closed.

Check out ALL our other giveaways, including another African story, A Spear of Summer Grass (where 5 copies are up for grabs).
Check out our current giveaways. Subscribe to our feed. Follow us @5M4B on Twitter or on Facebook.