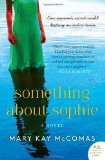 When Sophie Shepard shows up in the sleepy little town of Clearfield, Virginia, she has no idea of the storm she's about to unleash. All she's doing is responding to letters and phone calls from a dying  man whom she's never met nor even heard of. She knows she was adopted, from nearby Charlottesville, but she's never had any real desire to find her birth parents. After all, she's adored by her father and mother, an only child and spoiled with love and attention. She's 27 now, a Kindergarten teacher who recently lost her beloved mother to cancer.
Unfortunately, the old man, Arthur, dies just before her arrival. Sophie decides to spend the night, and quickly makes  friends with Jesse, owner of a bed and breakfast in the tiny town. Arthur's lawyer asks her to stay for the reading of the will, since she's been left something. The mystery deepens. Why would Arthur have left her such a generous bequest?
There's the seemingly-obvious, of course, but that turns out to be a dead end. Then Sophie realizes that someone is following her around town and taking her picture. On top of that, when a young doctor who's befriended her goes up to ask him about it (since of course he knows the stalker–this is a tiny town!), the man has recently brutally murdered. More ugly things happen–her tires are slashed, someone else disappears, a third man is attacked and ends up in hospital. What is the connection between Sophie, Arthur, and the stalker, a former bully whom nobody really liked? Are all these incidents connected? Why is the whole town talking about Sophie? And, what about this young doctor with the intense green eyes?
Something About Sophie
is a  gripping thriller with more than a soupcon of romance thrown in. This is a spoiler in a way but in a way not–obviously the mystery is going to have something to do with Sophie's parentage. But you'll be guessing what exactly it could be right up to the end. The villain was not someone I had suspected at all, but it all fit.
Something About Sophie
is a very enjoyable read, and would be the perfect book to tuck into a beach bag or airline carry-on this summer.
This post is part of TLC Book Tours. Read more people's thoughts on the book by following the links here.