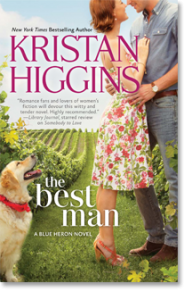 The Best Man is a romance novel that I'd be hard-pressed to really call a romance novel in the traditional sense. Kristan Higgins has created a novel that I described to a parent at Mister Man's tae kwon do class as "well sort of romance because yeah there's love involved, but it's much more women's lit – there's so much more to the book than just romance."
Faith Holland was left at the altar three years ago. Sort of. Her relationship with Jeremy, her boyfriend since the day he met her in high school when he picked her up while having an epileptic seizure and carried her to the nurse, has been a picture perfect romance. He never strayed from her all the way through his med school, buying her flowers, holding hands as they walked through town, or hanging out at the beach with her head in his lap. It was picture perfect until halfway through the wedding ceremony when the best man essentially forced Faith and Jeremy into the church basement where he encourages Jeremy to tell Faith "something."
It isn't the cheating you'd expect or the double life or anything like that. No, Jeremy is gay. And Faith had no idea. The wedding is obviously very publicly off in the small wine town where the Hollands are a founding family. She took the honeymoon to San Francisco and stayed there for three years, creating a successful landscape architecture business. She finally comes home for a visit when one of her sisters begs her to help prevent their dad from marrying an outrageously tacky gold digger.
Barely back in town, Faith is pulled over by the sheriff, Levi Cooper – who was the best man in her aborted wedding. He's as much a pain in the rear as he always was, and the antagonism is mutual. As Faith starts to put back together the pieces of her life that were shattered when her wedding went awry, no longer able to hide from them all the way across the country, she comes to terms with all sorts of issues from her past.
She's never been able to get over the feeling of guilt that her mother died in a car accident with her in the car as a 12 year old, along with feeling that her family blames her for their sainted mother's death, too. Her father has never remarried 19 years later, but Lorena is aiming to change that for the clueless man who doesn't appear to realize that she's sizing him up for a wedding ring – and his land and everything in the house for its worth.
The writing is sometimes over the top, but it's a thoroughly enjoyable 426 pages. There are tons of subplots that get worked out from Faith's feelings of guilt about her mother's death to her sister and brother in law's midlife crisis sex life to finding an alternative new wife for Faith's dad to the bickering of Faith's grandparents. There are so many layers to this onion that the romance developing between Faith and Levi is only a small part of it and not the sole focus, which makes for a far more entertaining read.
From the first page I read where the author sets the tone with, "It was a beautiful day in June, in front of literally half the town, wearing a wedding dress that made her look like Cinderella and holding a bouquet of perfect pink roses, Faith Elizabeth Holland was left at the altar. We sure didn't see that coming," you felt a vivid connection with the book. It's written in such an informal and conversational tone. I picked up a new favorite non-swear word with "Holy Futtocks" as Faith says repeatedly. But there are times the writing just jarred me the wrong way. Faith calling Levi – far too often – some derivative of a hemorrhoid got old. And it was really hard for me to take seriously a book that uses the term "boobage" – let alone uses it more than once.
Fortunately, in 426 pages, those instances weren't too frequent that it disrupted the flow of my enjoyment of the book. The Best Man isn't part of a series, though Kristan Higgens has written plenty of other novels, but there are so many interesting and rich characters who are explored to a degree but seem to have their own stories they wish to share that I would love to see more novels come from this one. As long as they don't use the non-word "boobage" again.
Michelle wishes she were part of a family that owned a winery until she remembers the scene where the families have to get up in the middle of the night to do the ice wine harvest. See what makes her content with her own life on her blog Honest & Truly! and follow along with her on Twitter where she is also @HonestAndTruly.