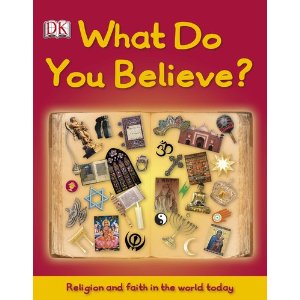 Nonfiction books for older children face a unique set of challenges, from making their topic interesting to presenting it in a way that appeals to the often fickle audience they're targeting. Dorling Kindersley, better known as DK, is one publishing house that I consistently trust to excel in this area. Their recent release, What Do You Believe?, tackles the ultra-complex topic of religion, and as usual, I'm quite impressed with its educational approach.
Four main sections make up this book's contents: the beginnings of religious beliefs around the world; basic breakdowns of the major world faiths, including Judaism, Christianity, Islam, Hinduism, Buddhism, Sikhism, Native religions, East Asian religions, newer religious movements, general spirtuality, and atheism; general discussions about religious practices, including holy books, prayer, traditional feasts, rites of passages, tithing, and clothing, hair and diet restrictions; and finally some common philosophical questions of life and how they apply to different religious practices.
As you can see, this one isn't light on content at all, yet its presentation is visually appealing with colorful graphics and photographs depicting aspects of different faiths, and the writing balances an informative and engaging tone. Some layouts present graphs and tables that help to compare and contrast religions at a glance, and a remarkable amount of information is conveyed in the approximate 100 pages of text.
Most appealing to me is the educational and non-judgmental nature of the way the material is presented. History and facts are included, but there is no indication of the contributors' personal beliefs or preferences. The intent of this book is simply to inform, which makes it accessible and useful for all readers. My ten year old son has spent time flipping through this book, and I'm happy for the intelligent and thorough depictions of world faiths in What Do You Believe?.
Hot topics make for good blog posts, so religion- or even politics- might appear as a topic at times on Dawn's blog, my thoughts exactly.