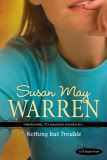 PJ Sugar has been running from her past for ten years. When her sister calls, asking PJ to care for her nephew for several weeks, PJ reluctantly returns to her hometown. Unfortunately for PJ, she can't escape trouble. As soon as she returns, she runs into her former flame, gets off to a rocky start in her role as aunt, and becomes involved with a murder mystery. All of these experiences test her new faith—the one good result of her years away from home. PJ must learn that she may not be able to escape trouble, but God can use her in the midst of problems.
Susan May Warren's Nothing but Trouble
is a delightful read. Like many of Susan's books, it is lighthearted and funny, but it includes a powerful message. I appreciate the element of suspense that Susan is able to weave into her stories, and I like that not everything is perfectly resolved at the end of this novel (a lead-in to a second book, I'm sure). I have read several series by Susan, including her Josey Series
and Noble Legacy Series
, and I have enjoyed them all. If you are looking for a good book to begin the summer, I recommend Nothing but Trouble
. It is a perfect poolside read!
Lauren is a wife, a mother of two, and an avid reader. She blogs at Baseballs and Bows.

We have one copy of Nothing but Trouble
to pass along to one of you (U.S. addresses only) as part of our Summer Fun Giveaway. Please leave a comment if you would like to win.
Please click on the banner to enter our other Summer Fun Giveaways. All winners will be announced June 11.