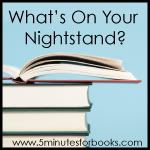 Usually even-numbered months publish at 7:00am, but since I messed up last month, I'm posting at midnight.
Please link your post telling us "What's on Your Nightstand" below. You can tell us what you just finished or what you hope to read this month. I don't know about you, but I usually read a lot over Christmas. We spend time just hanging out with family, which allows me to read a few pages while others are reading the paper or watching TV. We also drive about six hours, and my husband drives, and I don't get sick in the car — so that's prime reading time.
Things are changing on Tuesdays here at 5 Minutes for Books:

1st Tuesday (starting 1/5)— We are switching "I Read It!" from the 5th Tuesday to the first Tuesday. This is an opportunity for you to link up a review of a book you read on someone's recommendation. Initially we asked for a book that we recommended here at 5 Minutes for Books, but we're expanding it to include a book that anyone recommended to you. Tell us why you decided to read it, who recommended it, and if you agreed with his or her opinion of the book.

2nd Tuesday — Our Children's Classics carnival is changing over to a Children's Classics Mystery Challenge from January – June. See all the details (and the cute button) HERE.

3rd Tuesday — Will still be Kids' Picks. It's sort of the kid's version of Nightstand where we have the opportunity to share a book each month that our child would recommend to others.

4th Tuesday — Of course we will leave Nightstand as is! We love the faithful participation, so we aren't changing a thing.

5th Tuesday (starting 12/29) — We are moving our Classics here to the 5th Tuesday. Each quarter, we will offer you the chance to share reviews of Classics that you've read. You can select your own books, but it's our hope that this will still be a place that those who want to read the classics can find community. On December 29, if you'd like to set a goal for the year you can, or you can simply join in when you read a classic novel and want to share.
Check out our current giveaways. Subscribe to our feed. Follow us @5M4B on Twitter.
Link directly to your post telling us what's on your Nightstand here. And don't forget to visit around!