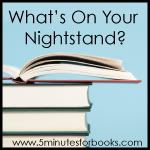 I'm amazed that each month there seems to be at least one new participant to What's on Your Nightstand. I know that it's because booklovers are drawn to other booklovers, and as you post each month, others catch the fire! If this is your first time, please add that beside your name in the linky so that we can be sure to give you some extra comment love to give you a warm welcome.
I thought that this would be a good time to revisit the purpose of this monthly meme that we host on the 4th Tuesday of each month.
The idea is to give us an idea of what is on your nightstand — meaning, what book(s) are you reading, did you just finish, or do you plan to read for the month. Your nightstand might be a stack under your bed, a nicely organized bookshelf, a library basket or even neatly digitally stored in your ereader of choice. No matter.
You can share a picture of your stack, a list of titles, or even some thoughts about what drew you to the titles on your list.
You write a post (or leave a comment if you are blogless) and link it directly to that post (not your homepage). Then we hope that you'll visit around to see what others are reading as well.
It's a fun week of the month. We all enjoy hearing how much you enjoy it. Thanks for participating so faithfully over the years.
Check out our current giveaways. Subscribe to our feed. Follow us @5M4B on Twitter or on Facebook or YouTube.