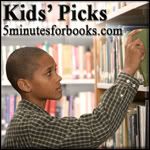 I don't know if you've noticed, but our Feedburner feed hasn't updated since our last Tuesday event! Apparently, one of the feeds (for Google reader I think) updated over the weekend. Read about what's going on, and take our quick survey, please. You could also let me know in the comments (here or over there) which feed you use if it has actually been updating. My Feedburner one is still down.
And if you haven't been here since last Tuesday because you haven't seen a feed update, look around!
But of course, we are here for Kids' Picks. Boy, have I been reading some books worth picking! As a Middle Grade Fiction panelist for round one of the Cybils, I am slowly making my way through the 144 nominated titles. And they are great. Wonderful. I've only read 15, and at least 6 or 8 of them are truly exceptional, and they've all been good. Coming up with a list of finalists is going to be a tough job. If you are looking for some kid-friendly titles, look no further than the long list of Middle Grade Fiction titles. And my linkup at Snapshot will feature a title on that list that Amanda especially enjoyed.
So, link up below, if you have some recommendations to share. Tell us the age of the child who is doing the picking when you link up. Make sure the permalink goes directly to the post, not the front page of your blog.
Check out our current giveaways. Subscribe to our feed. Follow us @5M4B on Twitter.